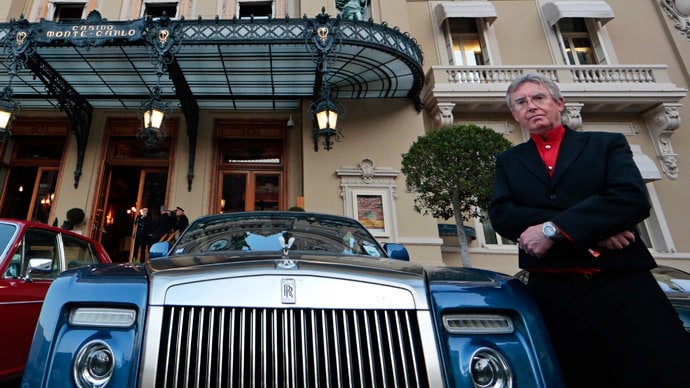 The combined wealth of the richest 1 percent of the world's population will be greater than that of the other 99 percent by 2016, a report from Oxfam International finds.
Based in part on data from the Credit Suisse Global Wealth Datebook, the report, Wealth: Having It All and Wanting More (12 pages, PDF), found that the share of global wealth held by the richest 1 percent increased from 44 percent in 2009 to 48 percent in 2014 and is on track to exceed 50 percent in 2016. What's more, nearly all (46 percent) of the remaining wealth is owned by the rest of the richest 20 percent of the world's population. The other 80 percent of the population share just 5.5 percent of the planet's wealth, or an average of $3,851 per adult — about 0.12 percent of the $2.7 million per adult held by the richest 1 percent. The report also found that the combined wealth of the eighty richest people in the world now equals the collective wealth of the poorest half of the global population, or some 3.5 billion people.
Released in conjunction with the annual World Economic Forum meeting in Davos, Switzerland, the report calls for urgent action to stem rising inequality — starting with a crackdown on corporate tax avoidance — and a global agreement on mitigating climate change. For its part, Oxfam International is calling on world leaders to tackle extreme poverty by, among other things, investing in free universal health and education services, paying all workers a living wage, and introducing equal pay legislation to support women's economic equality.
To that end, the humanitarian organization launched the Even It Up campaign in 2014 to boost awareness of income inequality around the globe. "Extreme inequality isn't just a moral wrong," said Oxfam International executive director Winnie Byanyima, co-chair of this year's WEF meeting. "We know that it hampers economic growth and it threatens the private sector's bottom line."
For more information please see the full article posted at: http://philanthropynewsdigest.org/news/world-s-richest-1-percent-will-own-more-than-all-the-rest-by-2016