Connect with mission driven talent, engage job syndication, and spread the word in the nonprofit community!
List a nonprofit job posting today to gain access to our vast nonprofit focused job seekers and gain valuable exposure for your opening and organization. Select from featuring your important job opening, mission/focus, and or simply post a job quickly and easily. Post a foundation job and we will do the rest. From there your future is up to you!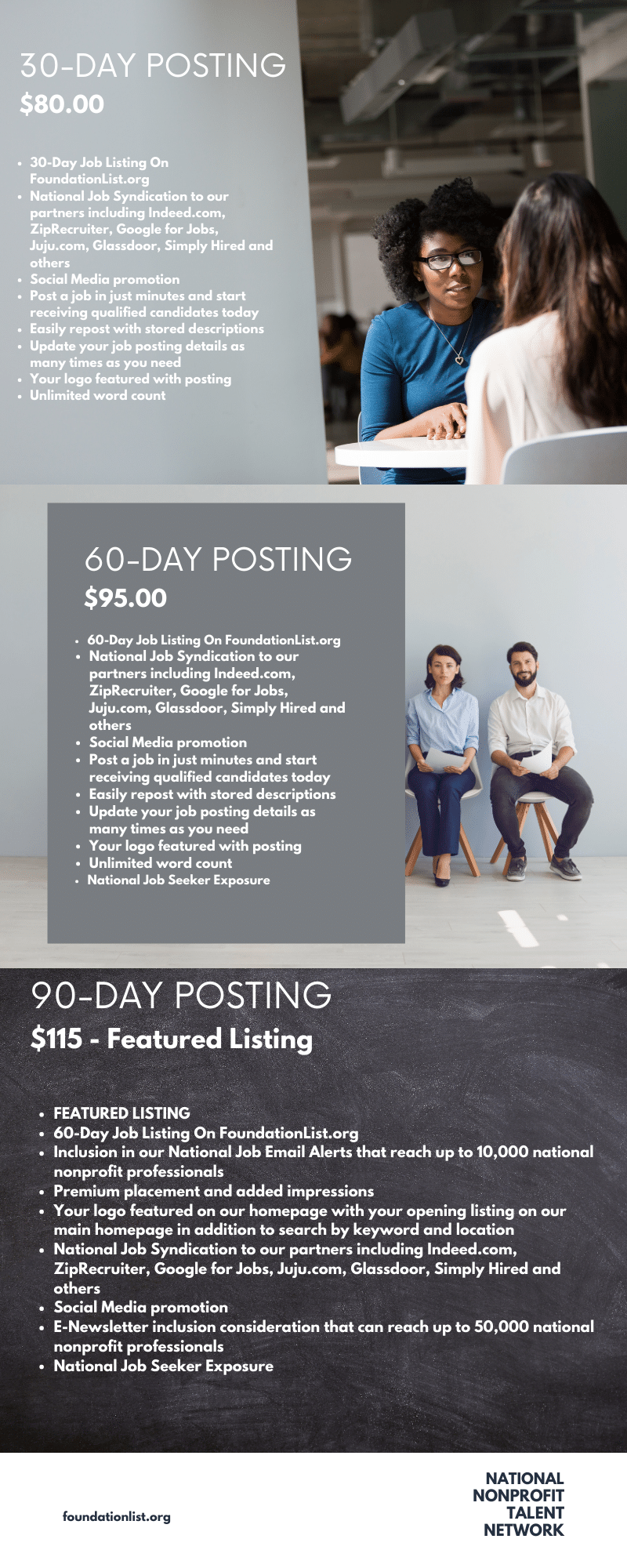 Choose Your Option & Post Now
60 – Day Sponsored Posting
Job Posting Aggregation Terms/Limitations:
Foundation List attempts to send/shares all complete and posted jobs posted on our site with our aggregation partners via rss (and automation) but cannot guarantee inclusion on these partner sites.  Aggregation partners have their own Terms and Conditions and requirements for the positions they accept to be posted. Foundation List cannot control which positions our aggregation partners include and post on their site. For example, postings that (1) do not conform with the Aggregation Partners Terms and Conditions of the aggregation partners, (2) are not complete or are missing job posting fields, (3) that list more than one physical location, or (4) have already appeared in the past on the partner sites or have, (5) have other issues against their policies, cannot be accepted by partner aggregation sites / social media partners. Job aggregators require unique posting content for each position they include. We also need complete information to be able to share the opening in our rss feed / social media successfully. Jobs posted on Foundation List are not guaranteed in any way to be posted on the aggregation partner sites.  Please do not post jobs on Foundation List if you do not wish for your opening to be shared for potential inclusion with our aggregation partners. Use of Foundation List job postings, website and services are subject to our (Use Agreement) Terms & Conditions.
About Us – Our National Nonprofit Job Postings:
Foundation List is nonprofit job board and active community of foundation and nonprofit passionate job seekers and employers seeking to hire new staff. It is our mission to connect established and budding nonprofit job seekers to worthy foundations/organizations and to help create greater change and impact in globally.